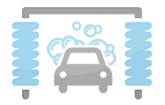 We offer everything you need for interior and exterior car cleaning.
Get spectacular results with our wide catalogue of cleaning tools.
Non-woven fabric cloths with minimum fibre and particle detachment, solvent resistant and great grease and oil absorption.
Special fabrics to clean before painting.
Multipurpose microfibre cloths with great versatility as well as traditional articles such as cotton cloths or knitted cloth rolls.

Hilados Biete has a range of specialized products in the Automotive sector